Detection of Geographical Clustering: Cultural and Creative Industries in Barcelona
Maddah, L.; Arauzo-Carod, J.M. and López, F.: "Detection of Geographical Clustering: Cultural and Creative Industries in Barcelona", European Planning Studies
Creative clusters are increasingly being recognized as vital tools in the promotion of the competitiveness, innovation, urban development, and growth of cities in developed countries. This paper studies the geography of Cultural and Creative Industries (CCIs) in Barcelona (Spain) for the years 2009 and 2017. We investigate the spatial distribution of firms using the Scan methodology, which identifies the localization of clusters and assigns them statistical significance. Our findings indicate that CCIs are not located haphazardly- they tend to cluster in and around Barcelona's prime districts. The evolution of the clusters over these nine years reveals distinct patterns of clustering among the twelve CCI sub-sectors. The mature clusters in Barcelona's core tend to have greater growth and enhanced transformation capabilities. Our results can guide CCI cluster policy, taking into account the specificity of each sub-sector. In addition, they can direct place-based development strategies, creative urban and rural planning, and restructuring in a polycentric context.
Subsectors in Cultural & Creative Industries (Elliptic Clusters, 2009-2017)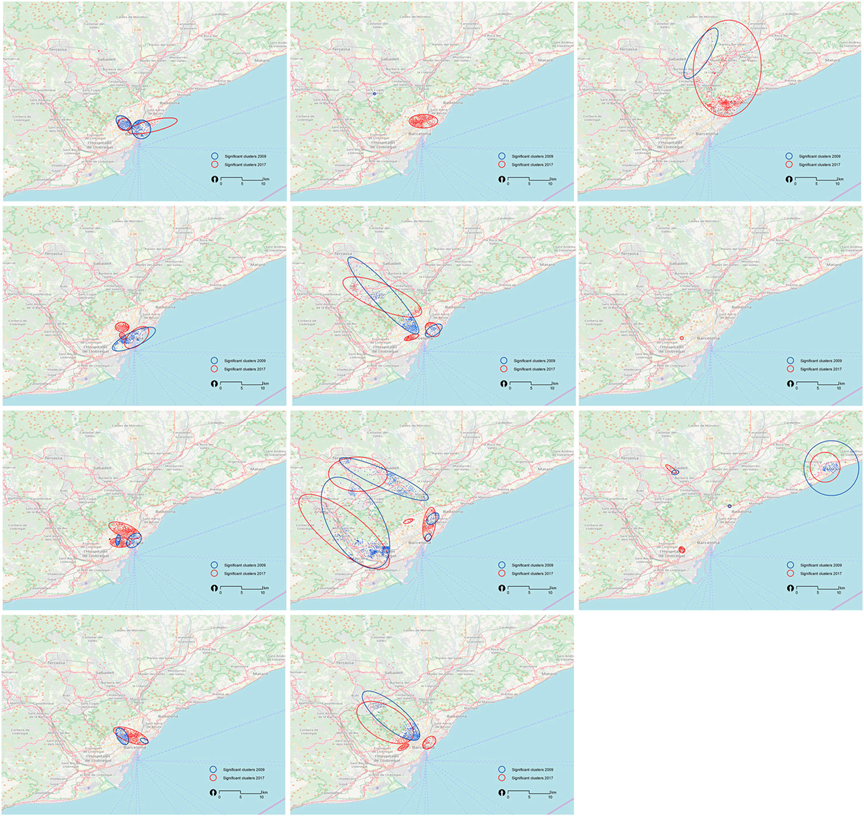 Advertising, Architecture and Engineering, Cinema, Graphic Arts and Printing, Jewelry, Music Instruments and Toys, Photography, Publishing, Research and Development, Software and Videogames, Writing, Performing Arts, Visual Arts and Crafts, Fashion.
Source: Own elaboration.